7 Best Handguns for Home Defense [2021]

Bryan Hill / September 08 2021
It takes home invaders seconds to break through non-hardened doors.
As they break in, you might be in bed, watching TV, on your computer, or on the toilet. How do you respond in time? For home defense pistols, there are two options:
Conceal carry a pistol all day, all the time, even if it's just a pocket pistol, so you can respond immediately.
A gun on the nightstand or a quick-access safe for when you're asleep.
I recommend both. If you can make your nightstand gun a rifle by your bed, go for it. But if you have young children, you have a dilemma:
Larger safes can store rifles, but take too long to access.
Most quick-access safes are only for pistols.
If your nightstand gun must be a pistol, read on.
What Makes a Good Home Defense Pistol
The best home defense handguns are large and heavy, because they don't have to be carried all day. The extra weight absorbs recoil,so you can fire accurate shots faster.
Home defense pistols can be conceal carried, but it's not recommended long-term.
Why? First, the extra weight of a home defense pistol can lead to back problems after years of daily carry. Second, the size of a home defense pistol means you need a shirt or jacket to conceal it. A pocket pistol, on the other hand, can still be concealed with your waist exposed.
Overview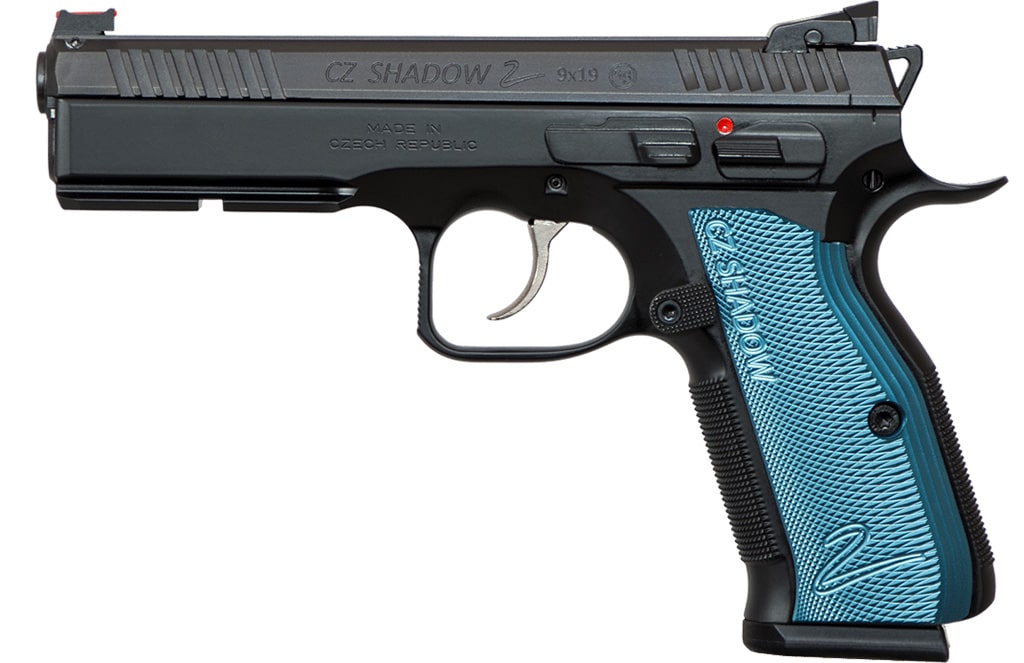 Top 3 Standard Home Defense Pistols
These pistols aren't compatible with a red dot sight (RDS),but are cheaper.
Under $400
Over $400
Best Home Defense Pistols under $400
The Century Arms TP9SFT may seem an odd choice, but its threaded barrel gives it the performance of a full-size pistol, and the option to upgrade with a compensator or suppressor. At under $400, nothing comes close for a home defense pistol.
Updated hourly
Best Home Defense Pistols over $400
The CZ Shadow 2 and EAA Witness Stock 3 are pistols that dominate in competitive shooting, and are nearly the same pistol. The CZ Shadow 2 comes with some upgrades built-in, while the Stock 3 is cheaper, and it's up to you to spend the cash you saved on the upgrades you want. If you don't like tinkering, just get the Shadow 2.
If you want something a bit cheaper, scroll down for optics-ready pistols.
Updated hourly
Top 4 Optics-Ready Home Defense Pistols
These pistols are compatible with one or more red dot sights by default. Check the icon on each entry to see which red dots a pistol is compatible with.
Under $600
$601-700
Over $700
Best Optics-Ready Home Defense Pistols under $600
The Century Arms TP9SFx is an awesome value, offering the quality and features of a $800 pistol. If you're looking to mount a red dot on it, get a Deltapoint Pro and its rear sight add-on, because otherwise you'll have to choose between a red dot or a red sight with this pistol.
Updated hourly
Best Optics-Ready Home Defense Pistols for $601-700
The Canik TP9 Elite Combat is an outstanding pick. It offers the features and quality of a $950 pistol.
The Glock 40 MOS has a few advantages, though: It has much better aftermarket support (upgrades, holsters, etc.), and if you own Glocks for other roles (pocket pistol, bear defense, etc.), switching from one Glock to another is seamless. Just be aware that adding all the upgrades of the TP9 Elite Combat (like the magwell, upgraded sights, trigger, and threaded barrel) would cost around $300.
If you're new to Glocks, make sure you can use the slide release and magazine release easily. Several of my students had issues with them when doing reloads, locking the slide open, clearing jams, etc., and it's no concidence that two of the most common aftermarket upgrades for Glocks are for those parts.
Updated hourly
Best Optics-Ready Home Defense Pistols for over $700
In competitive shooting, the Sig P320 X5 Legion is the dominant pistol for the carry optics division, and does so at the best price out of its competitors. Nothing matches its blend of performance, price, and aftermarket support.
Updated hourly
Disclaimer: I get a small commission on purchases through the price links above, at no extra cost to you.
Unsure of which to pick?