Aftermarket Support

Bryan Hill / February 24 2021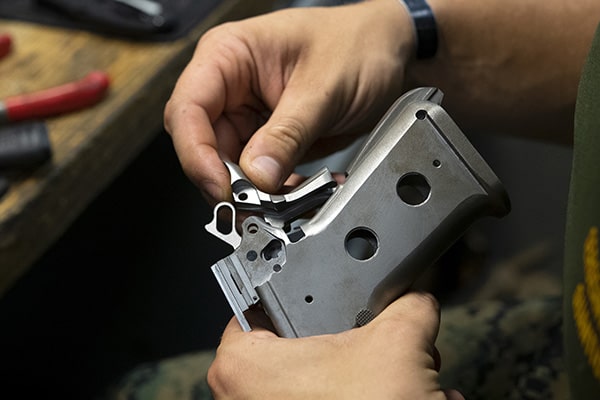 What happens if your pistol breaks, or you need a holster? Aftermarket support keeps you from having to buy a whole new pistol. We'll cover how much aftermarket pistol parts can improve performance, and how to find the right aftermarket pistol parts.
What is Aftermarket Support?
Aftermarket support is the quality and breadth of options available for items like:
Upgrades
Spare parts for repairs
Extra magazines
Holsters (especially those compatible with pistol lights)
This can be a major factor in choosing a pistol if:
You'll shoot this pistol over 20,000 times, as parts will need to be replaced.
(Competive shooters shoot their pistols over 10,000 times a year)
You want to upgrade your pistol rather than buy a different one.
Why Do Aftermarket Parts Matter on a Pistol?
A case study by a USPSA Grandmaster Karl Rehn found that upgrading a Glock's stock trigger, sights, mag release, and slide improved shooting accuracy/speed 81%.
Many of our recommended pistols come with parts already upgraded compared to a stock Glock, so they don't need as many aftermarket parts to reach peak performance. For example, the CZ P-10c has upgraded sights, trigger, and mag release, at less cost than a Glock 19.
On the other hand, there's a Glock for every pistol type (pocket carry, home defense, backwoods defense, etc.). And if you learn one Glock, you've learned them all. No other company makes it so easy to transfer your skills across their pistols.
If you've tried Glocks and loved them, it might be best to stick with Glocks for all your pistols and pay the aftermarket costs to max out their performance. Glocks have the best aftermarket support.
How Do I Find The Right Aftermarket Parts for My Pistol?
Even if a pistol has great aftermarket support, it can take hours to find the right upgrade or holster. Even then, you may end up wasting hundreds of dollars if you find it's not the right upgrade after all.
We're working on an upgrade selector, and a holster selector for each of our recommended pistols. They'll offer aftermarket items tailored to your needs.
Feedback
Are you happy with this page?