Why OC Spray?
Minimizing Risk to the Attacker
Even if you're not ethically concerned with minimizing harm to your attacker, it's another way of reducing your own legal risk.
In the video below, an unstable woman wouldn't stop harassing a homeowner and his family. See how he resolved it with pepper spray. How might have things gone if all he had was a gun?
OC spray causes extreme pain, but no lasting injuries in nearly all cases. [6] [8] [10]
Unlike a stun gun, baton, or knife, OC spray:
Has more effective range
Reliably stops threats immediately
Doesn't carry a risk of killing the perpetrator
Can be legally carried in more places
Can be casually carried in-hand without drawing attention
| | | | | |
| --- | --- | --- | --- | --- |
| | OC Spray | Stun gun | Baton | Knife |
| Effective Range | 10-20 ft. | 1-2 in. | 1 ft. | 3-4 in. |
| Stops threats immediately | | | | |
| No risk of killing the perp | | | | |
| Perp takes no lasting injuries | | | | |
| Legal carry in most places | | | | |
| Held without drawing attention | | | | |
Reducing Legal Risk
Legal disclaimer: This article is intended for an audience in the United States. Check the laws in your local jurisdiction. Nothing in this article or website constitutes legal advice. Self-defense claims depend heavily on the facts of a case, and it is impossible for any general guide to replace the counsel a good lawyer can provide. If this is an emergency, call a competent lawyer in the relevant jurisdiction.
A gun is the right response to deadly force: an imminent threat a reasonable person would expect to cause maiming (broken bones or worse), kidnapping, rape, or death. This can manifest itself when seemingly "unarmed" people stomp you when you're down, slam your head into pavement, or outnumber you, but there are many more situations. (For a full explanation, sign up for my FBI Pistol Transformation course, or read The Law of Self Defense by attorney Andrew Branca (2016) .)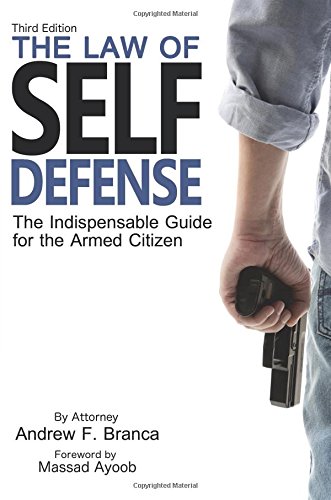 Everything else is non-deadly force - the imminent threat is unarmed and has similar or lesser:
Size
Strength
Numbers
Skill
Non-deadly force can be met in kind: with unarmed skills and OC spray.
OC spray is non-deadly force? Yes, generally speaking, it's legally the same as using unarmed skills as long as you use it in lawful self-defense.
However, if you use OC spray unlawfully, you can face aggravated assault charges, as though you were using a weapon. Why? Criminals started using OC spray to aid in their crimes, and the laws adapted.
Reducing Your Personal Risk
What if you haven't spent the months or years it takes to become competent in unarmed skills?
Pepper spray is fast and easy to learn. How well does it work?
OC spray immediately stops a non-deadly threat about 90% of the time after 1-2 sprays, and police departments across the US found that officer injury rates went down after introducing OC spray. [6] [12] [13] [15] [16]
OC spray doesn't totally replace unarmed skills, but even the most skilled martial artists have less risk of injury by using pepper spray if they can.