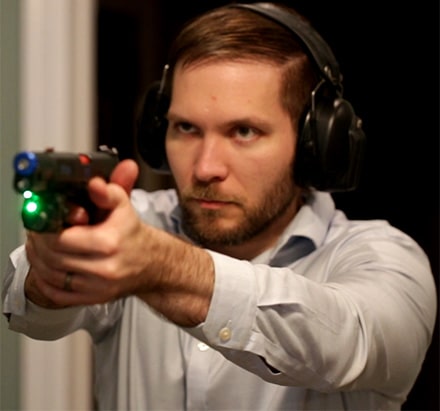 Firearms Training for New and Beginner Shooters near Georgetown, TX, in Convenient 1-hour Slots.
Do you feel uncomfortable handling a handgun?
Or are you planning to take the Texas LTC course, but want to prepare so you can smash it?
Sign up and start your self-defense journey.
Course Overview
In this course, you will:
Verify whether a gun is loaded or not, and unload it safely
Develop a perfect trigger press, so you can shoot accurately
Build a proper grip with recoil-simulation technology
Learn to unload and reload your pistol safely and efficiently
Identify and clear any kind of pistol jam
Be prepared for the Texas LTC shooting proficiency test
Here's a free sample of what you'll learn:
Prerequisites
No previous shooting experience needed.
You must send a copy of your driver's license after signup, or show it in Class 1.
After completing this course, you may take the rest of the beginner program.
Gear List
No gear is required. There will be a variety of loaner gear you can use at no extra charge, to help you find what is right for you.
If you have a pistol, you may bring it in a case, unloaded.
Class Size
Classes are up to 4 people each.
By default, classes are all-men or all-women.
Women may request to be in a co-ed class.
Men: too bad.
COVID-19 Precautions
Everyone's temperature will be taken with a touchless thermometer before being let inside.
Everyone must wear a mask during class.
Chairs, tables, door handles, and loaner gear will be wiped down with disinfectant wipes after class.
Schedule
The course is one 4-class Block, at 1 hour per class. You can take the whole thing in 2 classes a week in 2 weeks, 1 class/week in 4 weeks, or whatever works for you.
When signing up,
choose at least one OPEN slot
:
Can't Make a Class?
Please give at least 24 hours notice. If you no-show a class without notice, you must pay as though you took the class ($25).
If possible, we'll slot you into another class group to catch up. Otherwise, we can schedule a make-up class in any OPEN slot. If a majority of students can't make a class, we'll pause the main course and run an elective class that day instead, based on the attending students' needs.
60-day Money-back Guarantee
If within the first 60 days of signing up you are not satisfied with the growth in your knowledge and skills, you may request a full refund.
Payment
Per slot: $25, payable through Venmo or PayPal.
Sign-up Form
Testimonials for the Full Beginner Program
Theresa Venema
"It teaches so much more than the LTC class...Everything is really simulated like you're doing live fire...I feel comfortable now with my weapon."
Bill Venema
"It was an eye opener for me. I happen to be a lawyer, and at one time was a criminal prosecutor, and I still learned a lot..."