7 Best Eye Protection for Shooting [2021 Guide]

Bryan Hill / July 09 2021
If you fire a gun at the wrong thing, the resulting shrapnel or ricochet can cause
permanent blindness
.
We're going to cover US military eye protection (eyepro) standards and what they mean, what else to look for in eyepro, how to protect your eyes while wearing prescription glasses, and help you find the best eyepro for your needs.
On this Page:
Why Wear Eye Protection when Shooting?
What Makes Good Eye Protection?
Eye Protection for Shooting with Glasses
7 Best Eye Protection for Shooting
Why Wear Eye Protection when Shooting?
When you fire a gun, the bullet can create debris or shrapnel if it hits glass, metal, concrete, bricks, or dirt. Typical glasses don't stand a chance:
Debris in your eyes can sting and blind you for awhile. But if you get shrapnel in your eyes, you'll need surgery, like this poor guy: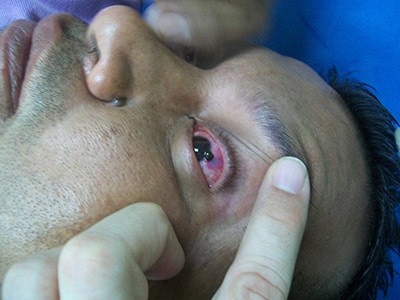 Your sight may be damaged or lost for the rest of your life.
What Makes Good Eye Protection?
So it's smart to wear eyepro when shooting. But not all eyepro is up to task. How do we tell?
Strong Eyeshields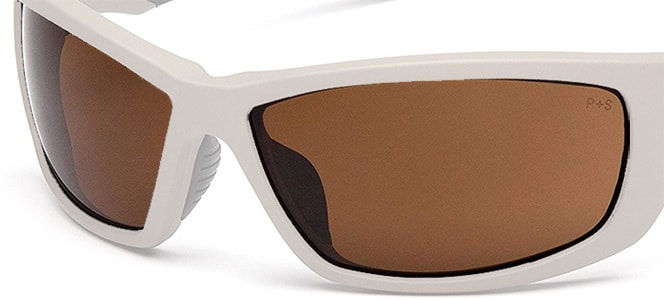 Eyeshields are the lenses that protect your eyes. They're not created equal.
Common safety glasses (using the ANSI Z87 standard) won't help much:
Want eyepro you can trust? Look for these ballistic standards:
Authorized Protective Eyewear List (APEL®)
. It lists all eyepro that meets the above standards, and other requirements for US Army Infantry. You can't go wrong with them.
Clarity
Cheaper eye shields distort your vision.
This isn't an issue within 15 yards. For more precise shots, this can cause you to miss.
Comfort

Soft stems.
Hard stems hurt your ears and head after an hour of wear. Soft stems have a soft coating. It's hard to tell just by looking at a picture, so check reviews.
Earmuff Fit
Thin stems.
Earmuffs must seal onto your head to protect your ears from gunshot noise.
Thick stems break that seal. Avoid stems that are thicker at the end: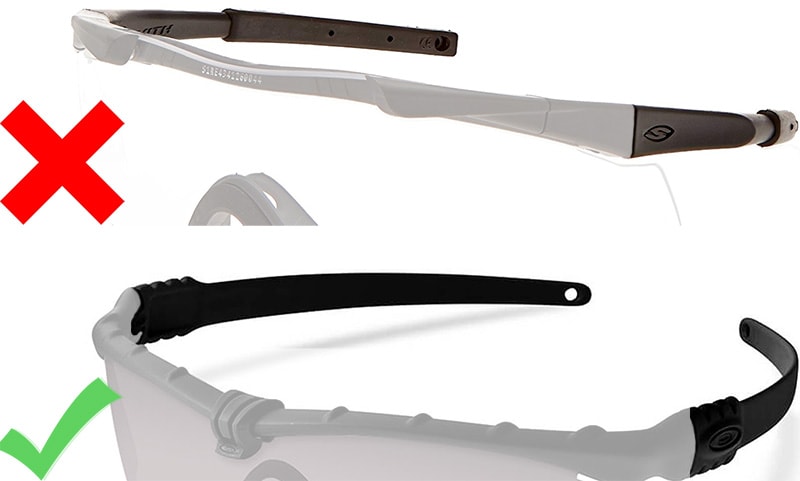 There's a balance between comfort and earmuff fit. Only the best eyepro does both.
Head/face Fit
If you wear a large hat, your eyepro is probably also size large.
Secure
Stays on your face when you jump, run, sweat, etc. Look for eyepro with an adjustable headband.
It'll have holes or divots at the ends of each stem: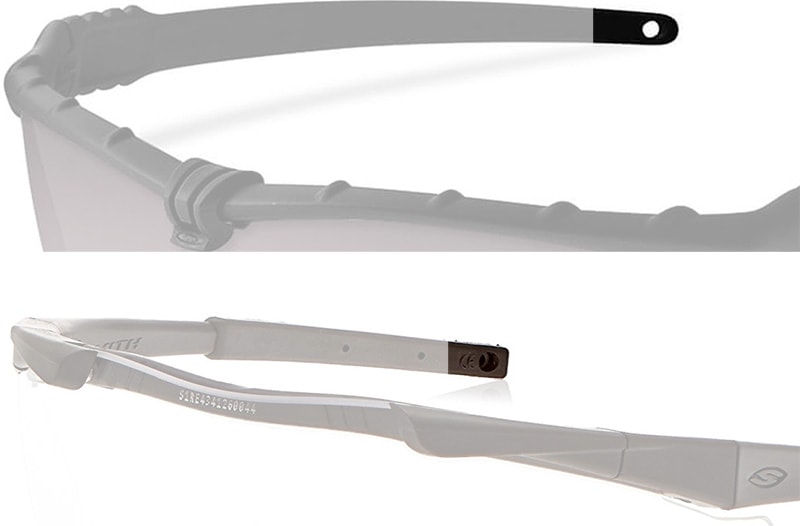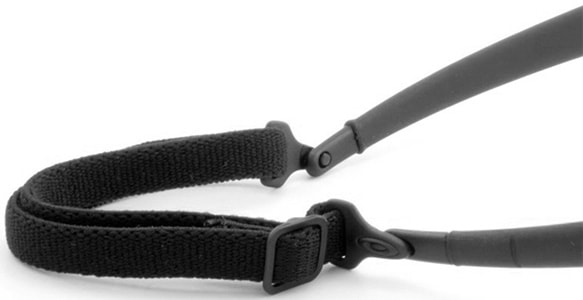 It may not look as cool, but you know what's even more uncool? Shrapnel in your eye.
Anti-fog
Anti-fog protection. Eye protection can fog up when you sweat. Anti-fog is a special coating to prevent that. Not all anti-fog coating is the same. The cheaper kind wears out after a few hours. What do you do?


Buy anti-fog solution and apply it to your eyepro as needed.
Maintenance
Eye shields don't last forever. Sunlight, heat, and humidity take their toll, wearing down eyeshields every 1-3 years of use outdoors. The good news is, eyepro lets you switch eyeshields out. Replacement eye shields cost $20-40. Replacing them should take no more than a few minutes. How do you find out how quick and easy that is? Check reviews.
Eye Protection for Shooting with Glasses
If you wear prescription (Rx) glasses, you have three options:
Rx Eyeshields
Over-spec Glasses
Rx Inserts
Prescription Eyeshields for Shooting

Take standard eyepro and give them specially-made eyeshields that both correct your vision and protect it.
Most streamlined.
Most fashionable.
Most expensive.
Rx eyeshields wear down every 1-2 years. Replacements cost $180-650.
Over-spec Glasses for Shooting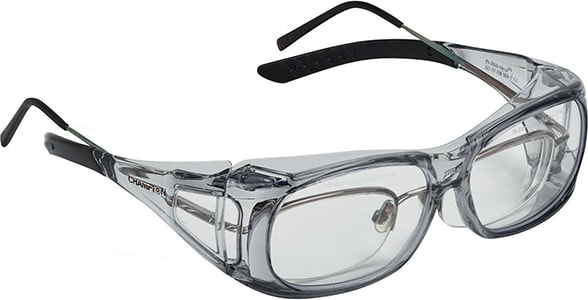 These are made to fit over prescription glasses you already own.
Use your prescription glasses, instead of buying lenses just for shooting.
Cheapest.
Most aren't ballistic rated. Make sure the protection standard is MIL-PRF-31013, MIL-PRF-32432, or GL-PD 10-12 MCEP.
Not one-size-fits-all. Check the max width of glasses it fits over.
Least fashionable.
Worst earmuff fit. Always use earplugs and earmuffs with these.
Prescription Inserts for Eye Protection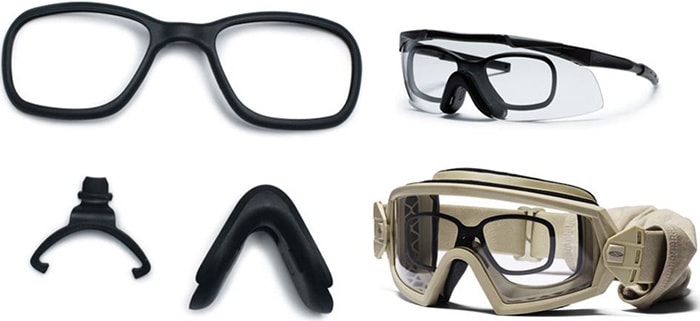 These feature a Universal Prescription Lens Carrier (UPLC), which holds separate Rx lenses to fit between your eyes and your eye protection. Take Rx-compatible eyepro, a Rx insert system, and some specially-fitted Rx lenses, and you're good to go.
Eyeshields wear down every 1-2 years, but your Rx lenses don't.
Cheap maintenance ($20-40 for eyeshields).
UPLC is a major standard; no worry about finding lenses that fit.
Maintains earmuff fit.
Must work with your optician to make UPLC-compatible Rx lenses.
Clunkier than Rx Eyeshields.
7 Best Eye Protection for Shooting
Eyepro Selector
Best Shooting Eye Protection
Eyepro Selector
The best shooting eye protection for you depends on your needs. Take out the guesswork with our Eyepro Selector:
Best Shooting eye Protection
If you'd rather browse, here's our roundup of the best shooting eye protection.
Best Standard Eye Protection for Shooting
$20 or less
$21-30
$30-100
Over $100
Best Standard Shooting Eye Protection for $20 or less
This choice is simple: For those wearing presecription glasses, get the Champion Over-spec. Otherwise, get the Pyramex Itek
Updated hourly
Best Standard Shooting Eye Protection for $21-30
If the style of the Pyramex Howitzer appeals to you, go for it.
Otherwise, the less fashionable Wiley X Saber Advanced is a better long-term choice, as you can change out the clear eyeshields for yellow, amber, smoke, etc. Yellow and amber lenses are good for hunting, as they increase the contrast of objects against the sky and green backgrounds. Smoke is good if you're light-sensitive.
Updated hourly
Best Standard Shooting Eye Protection for $30-100
No other eye protection is better at this price point than the ESS Crossbow 3LS. It comes with 3 eyeshields: clear, grey, and yellow.
Updated hourly
Best Standard Shooting Eye Protection for over $100
This is a toss-up. The ESS Crossbow Polar One has polarized eyeshields, which eliminate glare. The Oakley SI M Frame 3.0 doesn't have polarized eyeshields, but you can get high-contrast eyeshields for $65.
They're both great. Pick the one that most appeals to you.
Updated hourly
Best Prescription Eye Protection for Shooting
If you don't want to simply wear Champion Over-Specs over your presecription glasses, the next step up is using prescription inserts. The ESS Crossbow series has great support here; it's just a question of whether you want to pay for polarized lenses or not. However, when you have your inserts made, let your optometrist look at your eyepro. The curvature of the ESS Crossbow can get in the way of standard Rx lens inserts, but optometrists can work around it if they can analyze your eyepro first.
Updated hourly
Disclaimer: As an Amazon Associate I earn from qualifying purchases, at no extra cost to you.
Related Articles
Feedback
Are you happy with this page?
References